#Spiritual Journal: December 1-31, 2017 via @Peta_de_Aztlan:
++++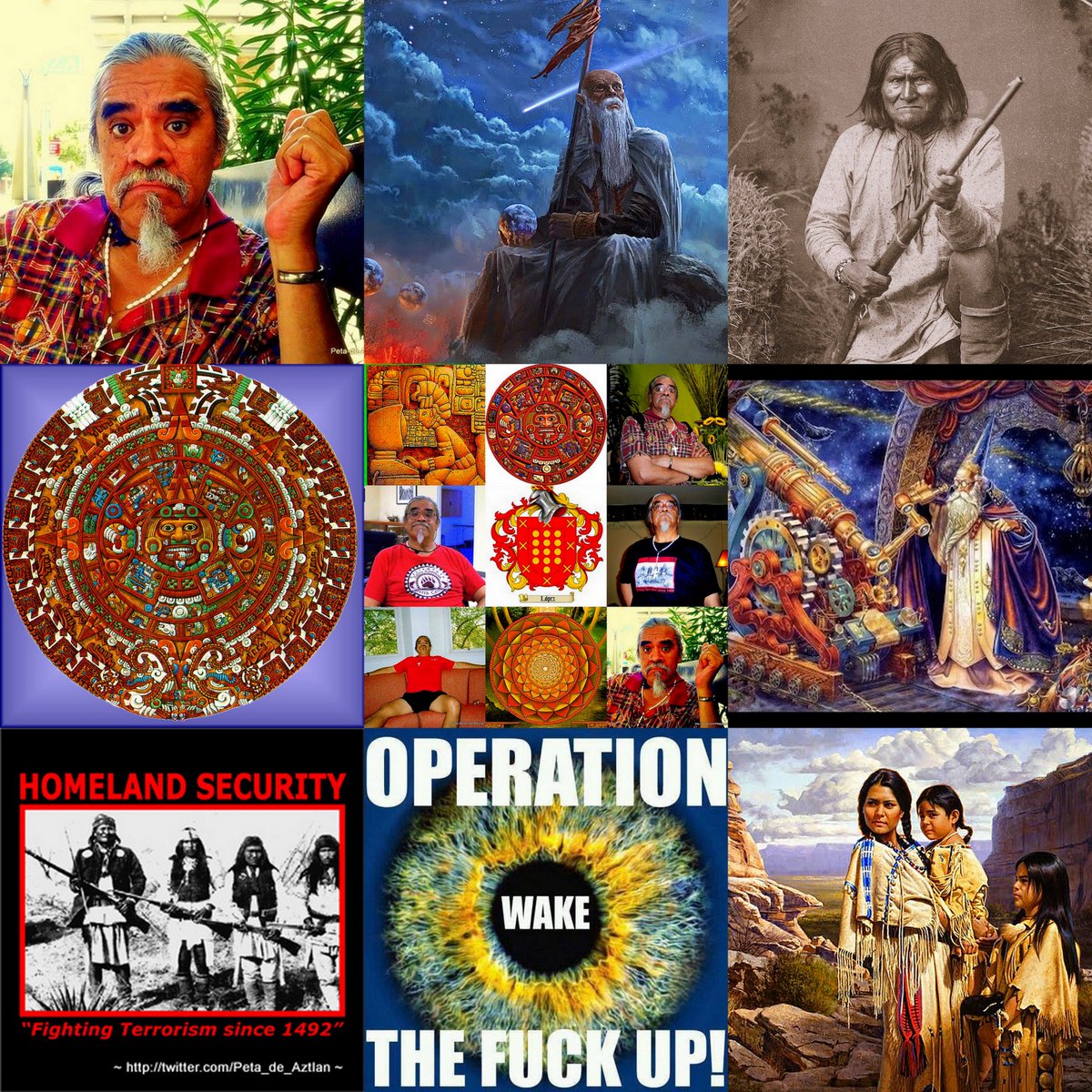 ++++
Sabbath, December 2, 2017
Finally got around to posting this new blogpost for the month. Have a little check that I will try to cash tomorrow. Sometimes I get so caught up on the #Internet that trim just slips past me. Still sane, serious and researching.
++++
► Coast To Coast AM – December 1, 2017 Fascinating Holiday Facts & Open Lines:
https://youtu.be/XLJUEKkvM1Y Pub Dec 2, 2017
via Conflict Radio Official
#Connect: @Peta_de_Aztlan:
++++
► @CIA INSIDER REVEALS ALIEN PRESENCE! #JFK FILES UNREDACTED – DARK JOURNALIST:
https://youtu.be/DG3oiLT3Mv8 Pub Nov 30, 2017
~via @DarkJournalist
#Connect: @Peta_de_Aztlan:
++++
► Trump's #JFK Document Dump Fueled The #Conspiracy Theory Fire (HBO)
https://youtu.be/x2H_f6LqJfM Pub Nov 22, 2017
~via @vicenews + @darkjournalist
#Connect: @Peta_de_Aztlan:
++++
►DEEP STATE WITNESS ELIMINATION! #JFK2017 FILES & MORE REVELATIONS ~ DARK JOURNALIST
https://youtu.be/GPcyQRYkfa8 Pub Nov 28, 2017
~via @darkjournalist + @chicabruce
#Connect: @Peta_de_Aztlan:
++++


++++


++++


++++
#WackyWednesday December 6, 2017
Still alive and well. Not being bothered by any fools. Am taking care of myself, though, I still like some sweets.
++++


++++
► Jon Rappoport – What's Behind and Beyond the Headlines (December 2017)
https://youtu.be/whxuLAdhgxs Pub Dec 6, 2017
via @jonrappoport: + @higherjourneys:
#Connect: @Peta_de_Aztlan:
++++
► Ep. 766 FADE to BLACK Jimmy Church w/ Linda Moulton Howe : THE LMH Interview : LIVE
https://youtu.be/MTPGJUJwP1c Pub Dec 6, 2017
~via @JChurchRadio + @Earthfiles
#Connect: @Peta_de_Aztlan:
++++
Monday, December 11, 2017
Am still alive and well. Have a couple of CEPS  Checks I need to cash tomorrow. Have been checking out Videos on MINDFULNESS and need to focus on meditation more to help me cope with my life environment on a daily basis. 
++++
► Introduction to Mindful Awareness | Diana Winston – UCLA Health:
https://youtu.be/PKRAWbq48OY Pub May 3, 2012
~via @UCLAHealth: + @dianawinston
#Connect: @Peta_de_Aztlan:
++++
► Becoming Conscious: The Science of #Mindfulness:
https://youtu.be/5TeWvf-nfpA Pub Feb 12, 2013
~via NourFoundation
#Connect: @Peta_de_Aztlan:
++++


++++
Sunday, December 17, 2017
Like weekends as I am less bothered by Management/Staff here. Sometimes I feel like I am just screaming into the empty space of people's minds. So many just seem sound asleep. It is hard to take civilians seriously when they are so determined to pretend to be asleep. I guess I have become cynical over the years. I am not really a people person as most are so dull and clueless about what is really going on.
++++


++++


++++


++++
► #UFOS THE BLACK BUDGET – SENATOR REID & FAKE #DISCLOSURE! DARK JOURNALIST:
https://youtu.be/2bBv7SBVAcc Pub Dec 17, 2017
~via @darkjournalist: + @chicabruce: + @susanmanewich
#Connect: @Peta_de_Aztlan:
++++
► Ep. 773 FADE to BLACK Disclosure Special LIVE Event : BREAKING: UFO #Disclosure:
https://youtu.be/NrIzN2E4Z1U Pub Dec 17, 2017
~via @JChurchRadio
#Connect: @Peta_de_Aztlan:
++++
► Linda Moulton Howe LIVE on #UFO Confirmation:
https://youtu.be/B3D10Ug5kfM Pub Dec 16, 2017
~via @Earthfiles
#Connect: @Peta_de_Aztlan:
++++
Glowing Auras and 'Black Money': The Pentagon's Mysterious U.F.O. Program:
Pub Dec 16, 2017
https://www.nytimes.com/2017/12/16/us/politics/pentagon-program-ufo-harry-reid.html?ref=todayspaper&_r=0
~via @nytimes
#Connect: @Peta_de_Aztlan:
++++


++++
Gateway to Heaven…
++++
December 25, 2017 ~ Christmas Day
Slept pretty well. An Email from Sister Linda below:

11:38 AM (23 hours ago)
PETEY;
I AM LETTING YOU KNOW THAT DAD PASSED AWAY
EARLY THIS MORNING ABOUT 4 A.M.
HE APPARENTLY HAD A HEART ATTACK AGAIN AND
THEY CALLED 911 FOR HIM.  HE HAD GONE INTO A COMA AND APPARENTLY NEVER WOKE UP FROM IT
THANK GOD!!  WHICH MEANS HE DIDN'T KNOW WHAT WAS GOING ON WITH HIM AS THEY WERE PUTTING TUBES AND TRYING TO GET HIS HEART GOING SEVERAL TIMES, NOT TO MENTION THE PAIN OF IT ALL.
HE HAD TOLD ME THAT HE WAS TIRED OF THE WHOLE THING OF BACK AND FORTH FROM THE HOSPITAL AND HIS PLACE, ALL THE POKEING AND DOCTORS MESSING WITH HIM THE LAST TIME HE WAS AT THE HOSPITAL, SO HIS PASSING IS WHAT I
CALL IT BITTER SWEET TO ME.
WE ARE GONNA HAVE HIM CREMATED AND THEN JUST TAKEN HOME, WHICH IS WERE HE WANTED TO BE IN THE FIRST PLACE.  HE IS NO LONGER LIVEING IN MISERY BUT WITH MOM NOW.
I WILL LET YOU KNOW OF ANY THING ELSE WHEN IT
COMES UP.
TAKE CARE
SIS

Comment. I was more like my Mom than my Dad. I wish we would of been closer. Life goes on!
++++


++++
We must appreciate our loved ones while they are alive and say what needs to be said.
++++
Sabbath, December 30, 2017
Still alive and learning .
A few Links:
► #CodySnodgres Living with #PTSD & Simplicity of Truth:
https://youtu.be/CeYZ2nB7Kws Pub Dec 25, 2017
~via SNAFU radio:
#Connect: @Peta_de_Aztlan:
++++
► #CodySnodgres Satanic Warfare is Real:
https://youtu.be/wOL13LVsd5M Pub Dec 24, 2017
~via SNAFU radio:
#Connect: @Peta_de_Aztlan:
++++


++++